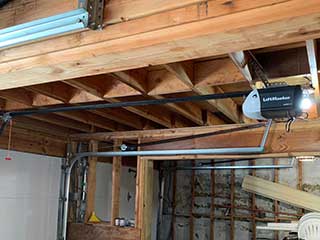 This is a fairly common scenario: A homeowner comes home from work one night, tired and stressed after a busy day in the office. Upon opening his garage door, he immediately notices that something isn't right – the door won't open! Now he is wondering, what is causing the problem?
Note that there are a number of common reasons why this might happen - understanding these scenarios should help you better plan a course of action if you're faced with a similar problem.
Faulty Opener System
This is one problem that often gets overlooked by homeowners - if your opener motor gear is wearing down or has worn out, you'll need to get this looked at or you'll be on the way to a breakdown. A damaged opener can also start to place extra strain on other parts of the system. Get it looked at now rather than later!
Detecting Electrical Problems
Electrical problems in the unit can be hard to spot but issues like problematic wiring should also be identified and rectified. If your garage door is malfunctioning for this reason - we'll be able to locate the issue, fix the problem and get your door working again.
Old, Rusty Or Misaligned Parts
Age and lack of maintenance can cause components in the system to wear down over time - rust and misalignment can set in. If left to deteriorate, this can impact the functioning of your system. The tracks, rollers, and springs, in particular, should be given attention - you don't want to be confronted with a broken spring or a door that's come off track when you're in a hurry!
There are all kinds of issues that can affect a garage door, but knowledge is power! If you're keen to keep your system in great shape, our experts at Garage Door Repair Fremont are the ones to help. Whatever your query, just get in touch to talk to our professionals.