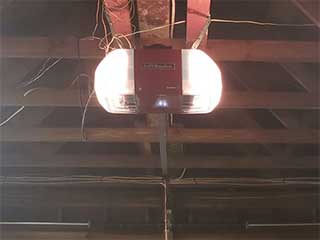 The opener provides the initial jolt of energy to get your garage door working. If something goes wrong with it, your door isn't going to move unless you pull it up and down yourself. Fortunately, our team is available to handle all your opener related woes.
How Does It Work?
When your opener receives the signal, it utilizes its electrical motor to pull the trolley cables that move your garage door. It also unlocks the springs that provide the bulk of the heavy lifting. Most styles of opener are box-like devices attached to the ceiling near the back of the garage, though the more modern "jackshaft" style opener is located nearer to the door itself at the edge of the torsion rod.
What Can Go Wrong?
Like any electrical system, an automatic opener is vulnerable to wiring and circuit board failures. Remote control and 'smart' systems can also suffer from receiver failure or software problems. Finally, the motor can be vulnerable to jams, rust and breakage after prolonged use, especially in a poorly aerated garage. If your opener is making strange noises, working slowly or behaving unpredictably, this is a sign that something is wrong.
What Can We Do?
With over ten years of experience in the field, our team has seen everything that can go wrong with a garage door opener. We're familiar with the products of a wide range of manufacturers, and can provide electrical, mechanical and software troubleshooting. If your opener can't be repaired on the spot, we carry a diverse inventory of replacement units. Our team can help you find the part that best fits your needs and price range, and install it at your soonest convenience.
Call Us Today
Don't wait for problems to get worse. Call Garage Door Repair Fremont today, and let our experts help you out.
Commonly Asked Questions
How does a garage door opener work?
A garage door opener uses electrical energy to open or close the door. The opener's motor turns around and pushes or pulls on the drive system. Depending on what type of opener you have, the drive either moves a trolley across the garage ceiling or connects right to the springs. In both cases, the springs do most of the heavy lifting; the opener gets them moving and keeps them under control.
What garage door opener is best when comparing the three main types?
Chain drive openers are cheap and user-friendly, but they're also loud and tend not to last quite as long. Belt drive openers are very quiet and last longer than chain drives, but are more expensive and require more maintenance. Screw drives are the loudest type of opener, and often the most expensive. However, they give the most reliable and efficient performance. The more recent wall-mounted style of opener is more compact and good for saving space in your garage.
Looking for more? We also offer:

Galvanized Torsion Spring Replacement

LiftMaster Garage Door Maintenance

Commercial Garage Door Replacement

Automatic Door Opener Replacement