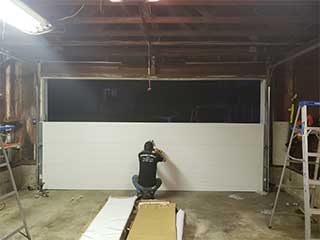 As useful and convenient as they are, automatic garage door systems can malfunction from time to time. Unfortunately, the many benefits that this mechanism offers will be rendered moot until the problem affecting it is solved. Dealing with many of the potential issues that your door may experience can be incredibly dangerous, so you should avoid trying to handle things yourself. Instead, all you need to do is let our team know you need some help, and we'll send our experts over ASAP.
Various Hardware Damage
Wear and tear can cause a lot of damage to all sorts of parts over time. The tracks can bend, the rollers can break and even the panels, i.e. the door itself, can become damaged. Rest assured that no matter what's wrong, our team will be able to assist you. We'll either repair the damage on the spot, or replace the affected component with a new one.
Common Opener Problems
The motor unit that powers the movement of your door is liable to break down or malfunction too. It can start reversing inexplicably when you try to close it, or it can fail to start at all for no obvious reason. These issues can be the result of either mechanical or electrical problems, and figuring out which of the unit's different components is the culprit will require some troubleshooting. Good thing that's one of our company's specialties. Our technicians will perform a thorough check and quickly apply the appropriate solution to the problem. Garage door opener repair is not something that should be taken lightly, so be sure to always leave this type of project to our team.
Broken Spring Repair
Seeing as the springs are probably the hardest working parts of the entire garage door system, it's really no wonder they end up breaking unexpectedly. Of course, with proper maintenance they'll end up lasting longer, but replacing them will eventually become a necessity even so. Because of the high amount of tension these parts are under, mishandling them can have catastrophic results. Broken spring replacement is one of our team's specialties, and it is the reason we started offering emergency repair services.
Fast and Effective Solutions
If you're having any type of trouble with your door system, don't hesitate to get in touch with our company. Our experts at Garage Door Repair Fremont are here to help you deal with anything from broken panels to damaged cables. Give us a call today.
In addition, count on us for:

Garage Door Cable Repair

24 Hour Garage Door Service

Garage Door Out of Track

Garage Door Remote Clickers