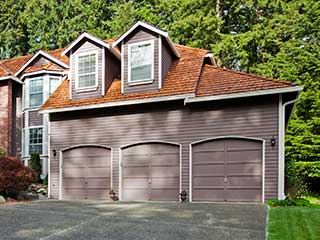 The best way to secure your garage is with an automatic overhead door. These systems are the most durable, reliable, and convenient option. If you live in the Fremont, TX area or nearby, Garage Door Repair Fremont can help you get a new one installed. We specialize in low-cost garage door installation, replacement, and maintenance. Our team works with premade garage doors from major brands and custom assemblies alike.
Which Garage Door Is Best?
The best garage doors for one hone or neighborhood might not be the bests for another. If your garage entrance is wider than most, you'd be better off choosing a lighter door design. Garage doors installed in wetter or dirtier areas, or in garages with plumbing or air sealing issues, should prioritize water resistance and insulation. If you're worried about security, a heavy garage door and an opener with extra security features might suit you best. Expense, maintenance requirements, and aesthetics are all important factors as well.
Choosing A Material
Aluminum garage doors are impervious to water damage and lightweight enough for most openers. However, they're vulnerable to blunt trauma. The pros and cons of a wooden garage door include strength and attractiveness on the one hand. But heavy weight, maintenance intensively, and expense stand on the other. More so than even panel design and manufacturer, the materials your garage door is made of determines a lot about its performance. Garage Door Repair Fremont stocks aluminum, steel, wooden, and synthetic polymer doors and components. Some doors combine multiple layers of different material, to give you the better traits of several. It comes down to your taste, your budget, and your security needs. Every homeowner close to Fremont can consult with us on which new garage doors they should get.
Automatic Overhead Garage Door Installation
If it has never had an overhead door before, your garage will need some infrastructure added first. A garage door opener bracket needs to be installed either on the back wall or by the top of the entrance. It depends on what garage door opener type you want. Garage Door Repair Fremont carries both trolley drive and wall-mounted openers of all kinds. And from brand names like LiftMaster, Genie, and Sears too. Your garage door opening will also need a pair of tracks installed. It'll need a spool to wrap the lift cables around as well. Once our team has the garage all ready, they can put in the new garage door itself. As well as an opener and new springs if needed.
Maintenance And Care
Even a well designed and installed garage door system should undergo regular maintenance every once or twice a year. Recalibration and lubrication every six to eight months improve garage door performance a lot. You'll likely require garage door spring replacement every seven to twelve years even in the best conditions. The reason for this lies in the constant wear and tear the springs go through every time you open or close the door. It's always best to have technicians who are familiar with your garage door to provide maintenance!
Garage Doors Near You
If you live close to the Fremont region, then you've got us to call on for free estimates on new garage doors. The experts here at Garage Door Repair Fremont offer services Sunday through Saturday, and will gladly consult you on materials, special features, and anything else. Whether you need a new garage door built from the tracks up, or if you just need an older door replaced, you can get the best value around with us!